---
In the third event of a series addressing issues around female entrepreneurship, Ulster University Professors Joan Ballantine and Pauric McGowan organized a full day conference at the MAC in Belfast to present five pieces of research and an expert panel discussion on the issue.
Policymakers in developed economies are keen to accelerate growth by stimulating more entrepreneurial business venturing, particularly among women – a section of the population that is underrepresented in terms of entrepreneurial potential. And of the four UK regions, Northern Ireland stubbornly remains the lowest performer in this regard.
But why – and what can we do about it?
The Conference heard from the authors of five pieces of valuable research commissioned by Ulster University which highlight the issues and identify some of the potential ways forward. (see Five supportive research papers below)
---
Review of the Research and introduction to the Experts Panel from Professor Joan Ballantine (Audio)
---
The Expert Panel
The Conference Panel of Experts was asked to consider how their organization helps support female entrepreneurship and what issues they identify from their perspective.
In turn Lynn Carville (Women's Tec), Roseann Kelly (Women in BusinessNI) Carol Fitzsimons (Young Enterprise), Partricia Devine (InvestNI), Gillian McKee (Business in the Community), and Tina McKenzie (PeoplePlusNI) addressed the challenges before opening the floor to Q&A.
Lynn Carville, CEO, Women's Tec
---
Roseann Kelly CEO Women in Business NI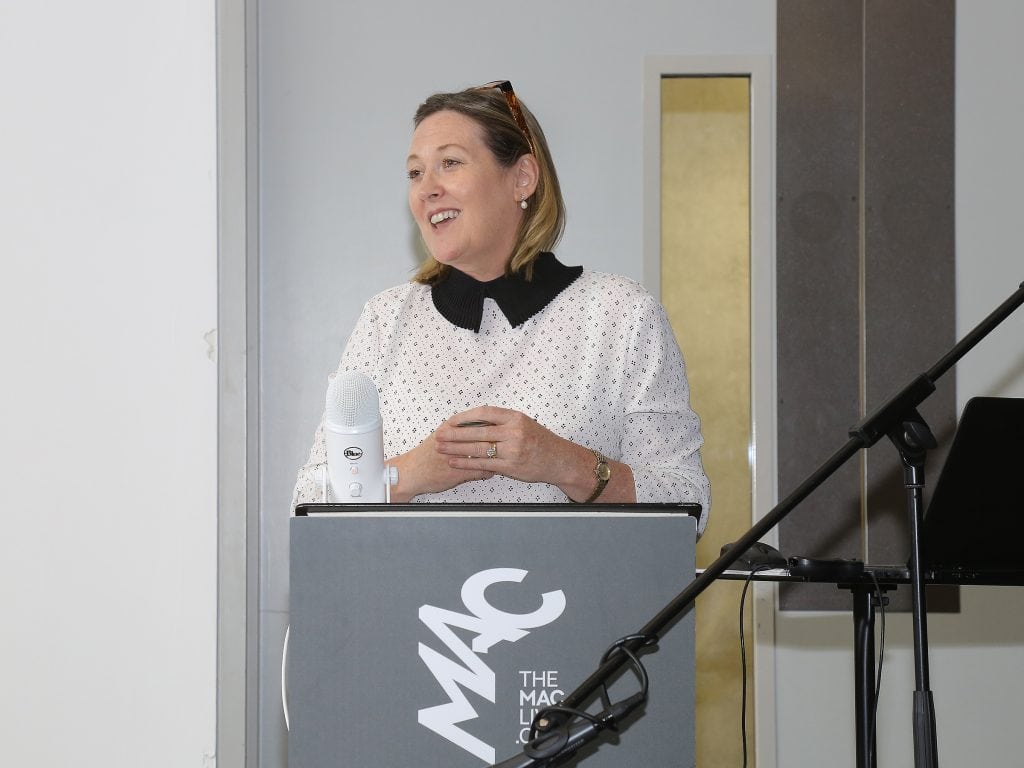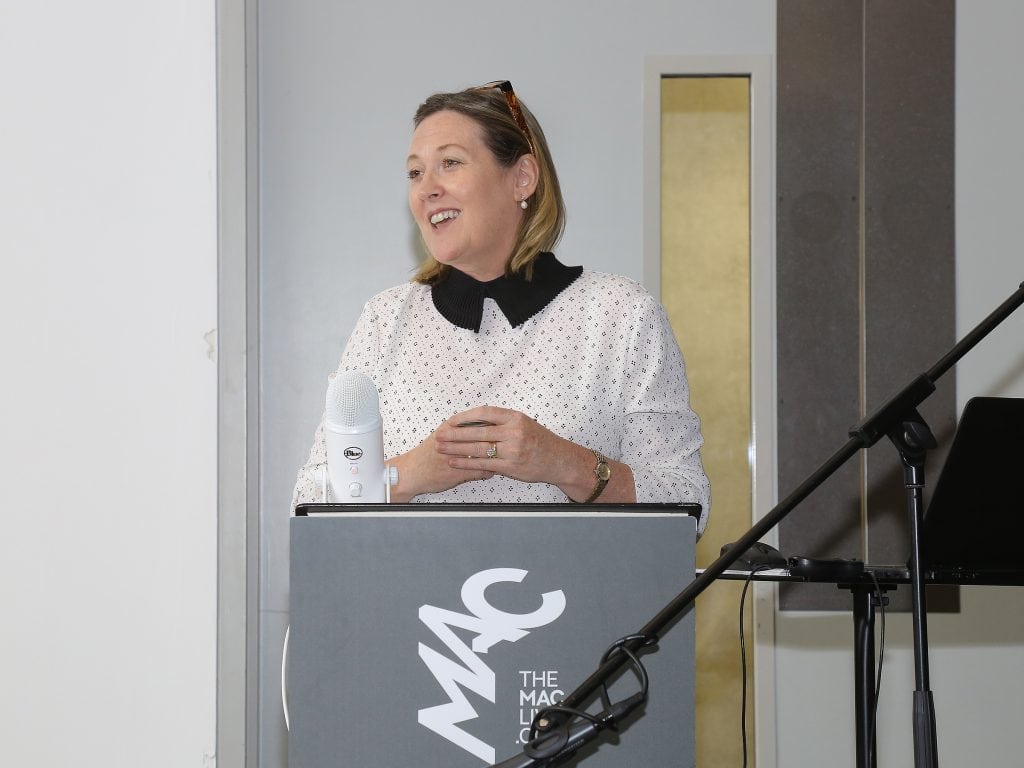 ---
Carol Fitzsimons, CEO, Young Enterprise NI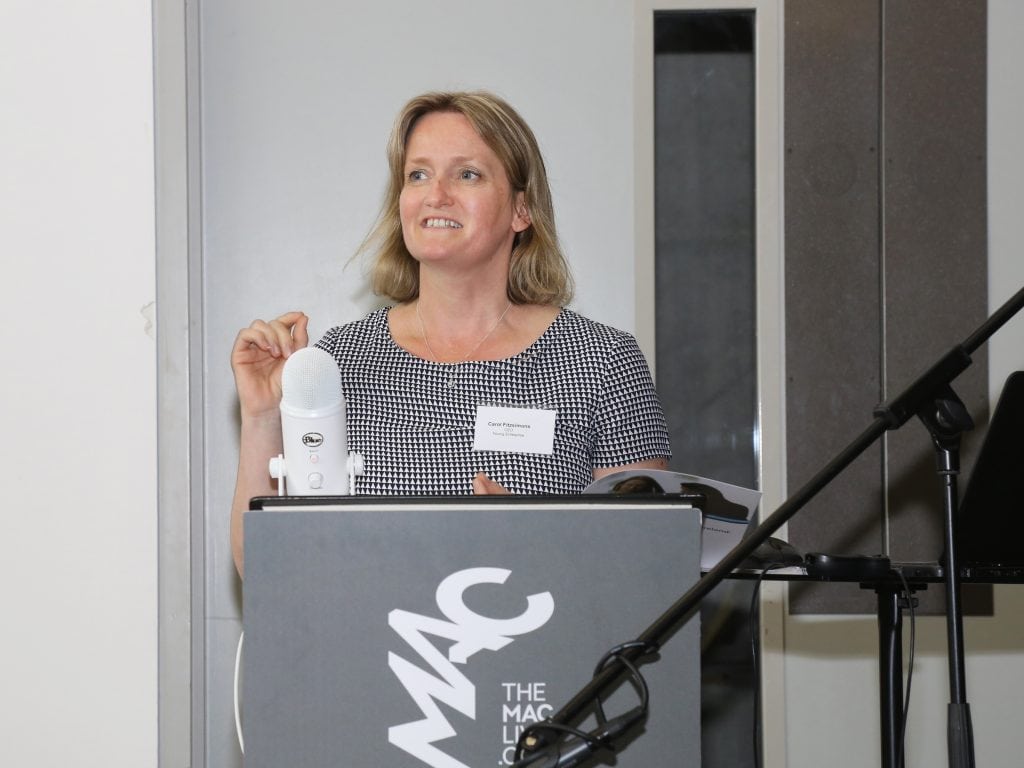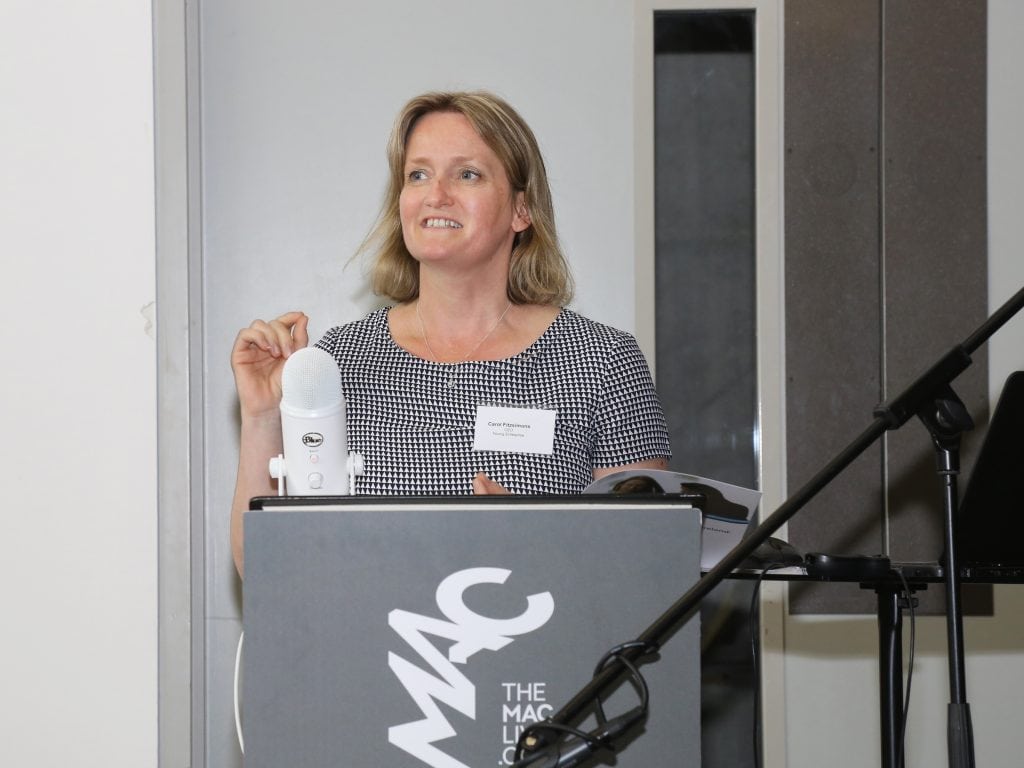 ---
Patricia Devine, InvestNI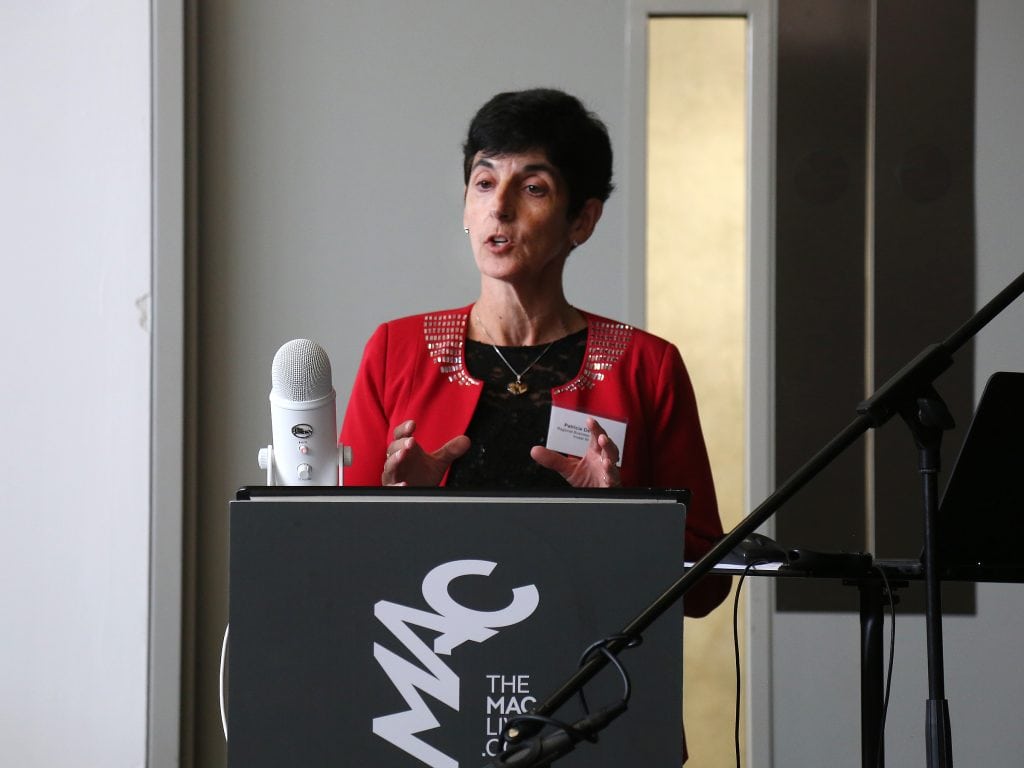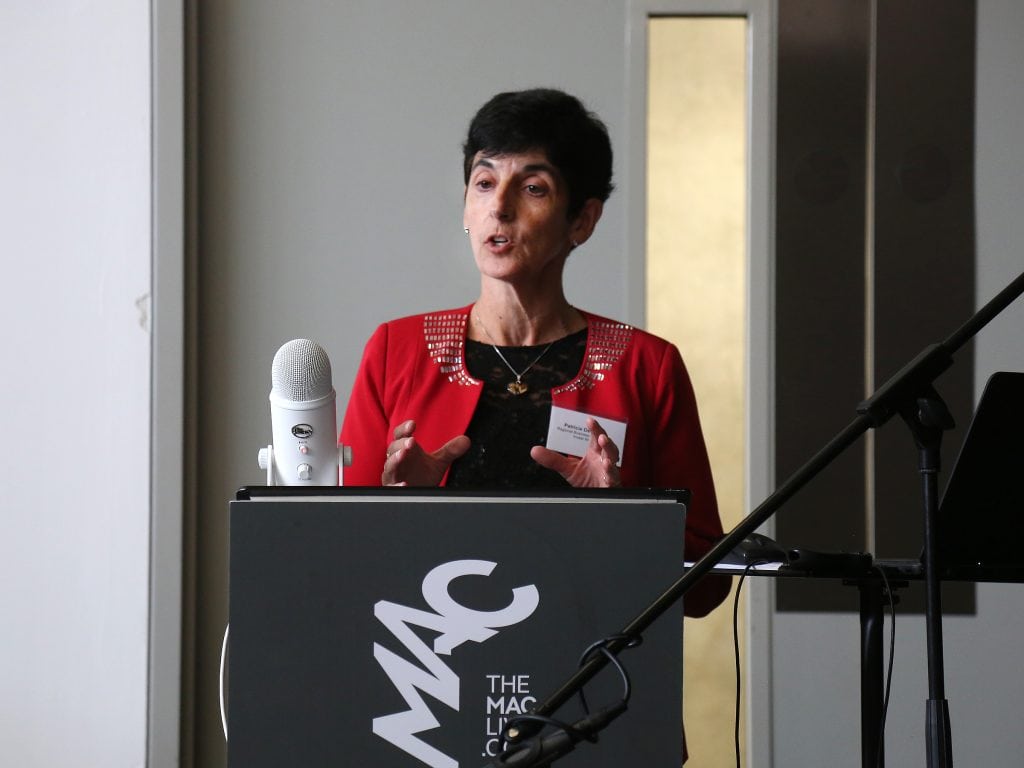 ---
Gillian McKee, Deputy Director, Business in the Community NI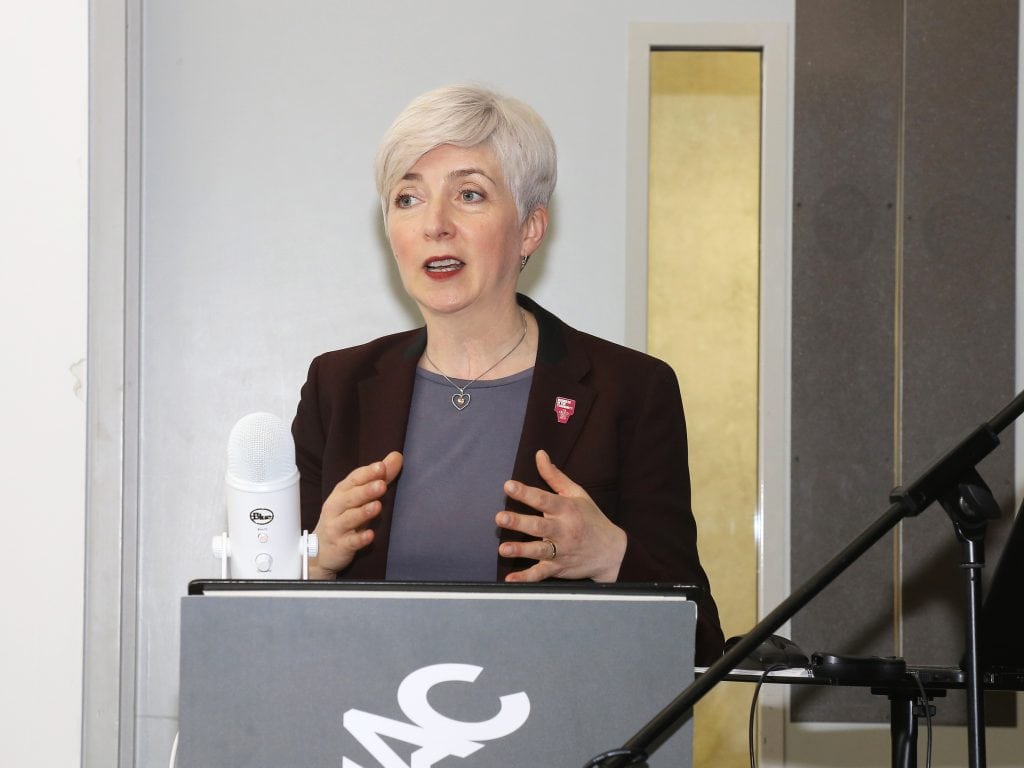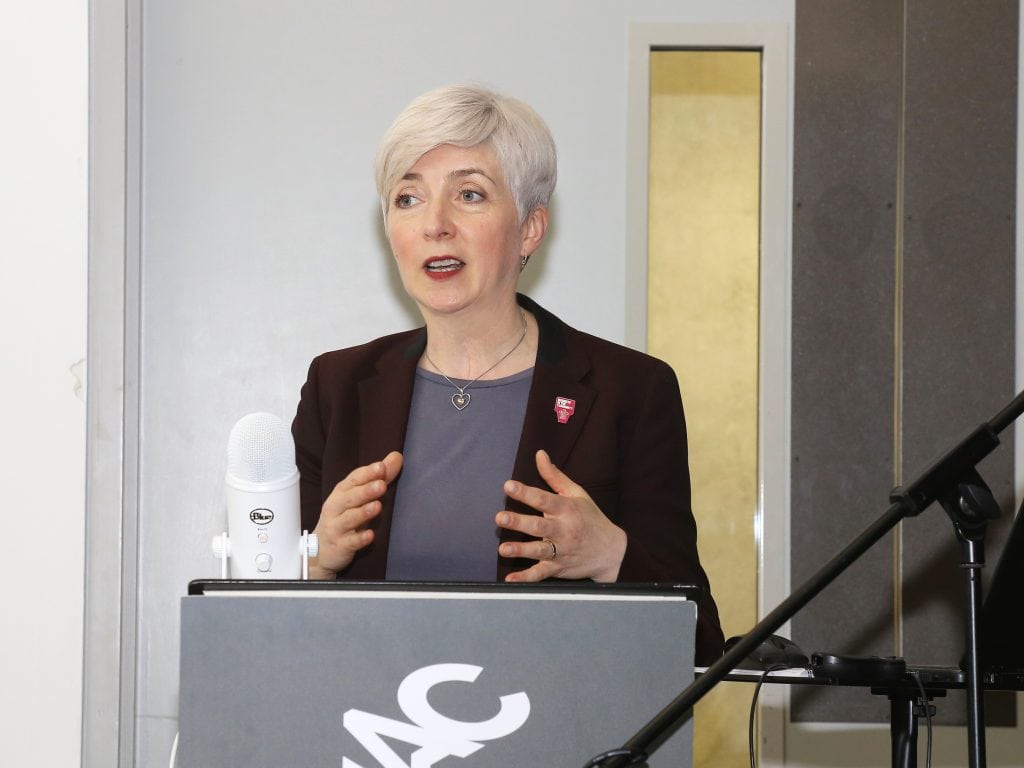 ---
Tina McKenzie, MD PeoplePlusNI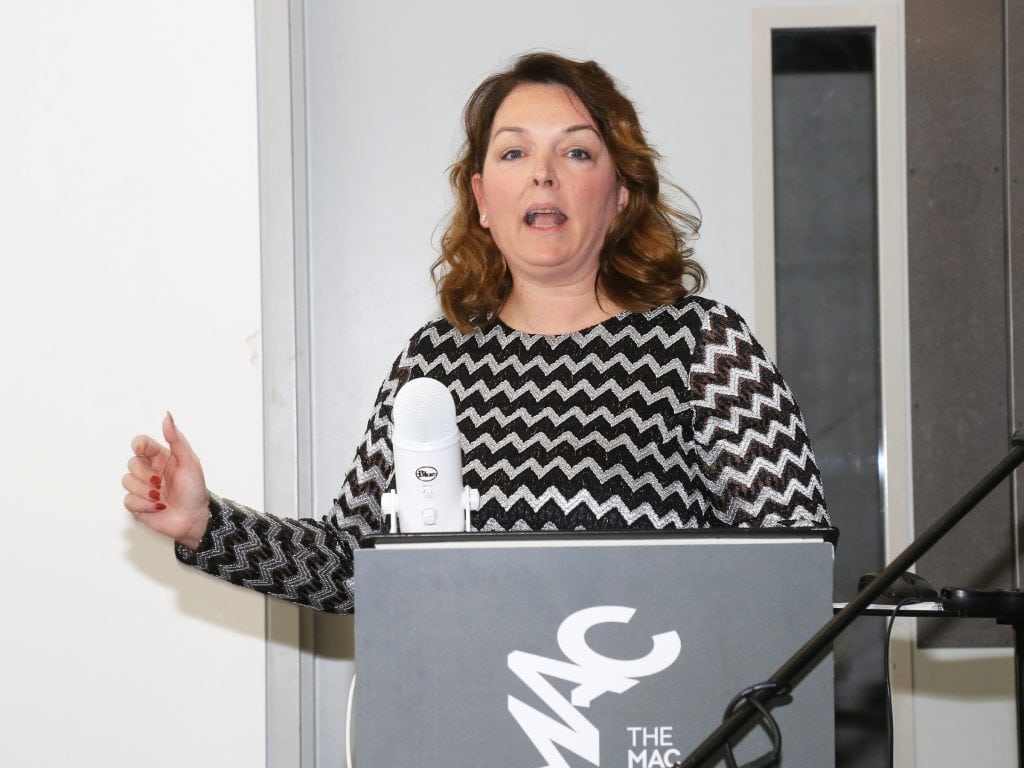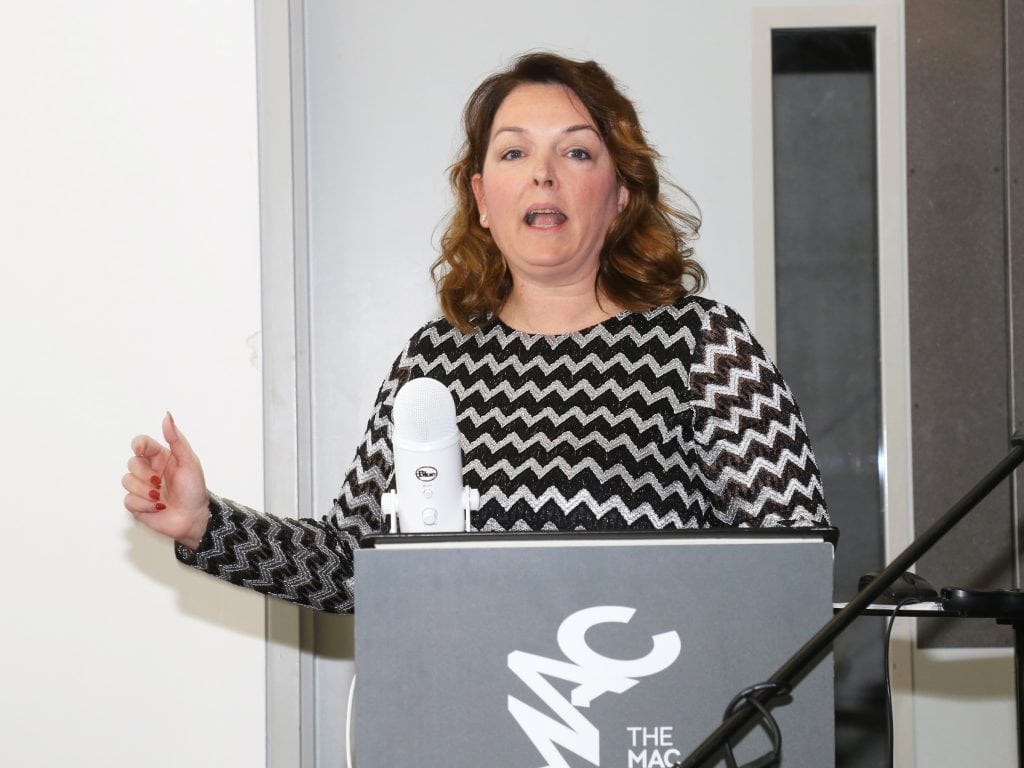 ---
Expert Panel Q&A and Open Discussion
Q: How do you collaborate for coherence of message?
The answers were diverse as the Panel is engaged in a wide range of activities. Tina referred to PeoplePlusNI's Apprenticeship Shop while Roseann highlighted the recent success in having Councils accept the need for female-specific entrepreneurship training by putting programmes in place.
Patricia said InvestNI prefers informal networking and Carol's Young Enterprise approach is to work with 18-25 year olds to develop an awareness of the value and potential of entrepreneurship as a career path.
Q: Who's job is it to highlight the value of female entrepreneurship?
Tina highlighted the need for all women to work to change the culture that builds barriers to female entrepreneurship. 'It's about being forceful about the reality, but we also do require statistics to back up our claims.'
Agreeing, Roseann said that there needs to be a budget around collecting the statistics. 'This isn't simply a women's issue – it affects the wider Northern Ireland economy. Northern Ireland government should look to the Scottish model and apply it here to capture the value of female entrepreneurship and what it contributes. And of course, the creation of a dedicated Women's Enterprise Centre would facilitate that perfectly.'
Carol felt that it was important that NISRA (Northern Ireland Statistics & Research Agency) took ownership of the issue as the results would be important in terms of developing future policy.
Q: What can we do now to progress the agenda?
Overall the panel felt this was a good time to be having this conversation as there is a recognized need for change.
Some felt it was time to call it out as an issue and have a zero-tolerance toward inequality, with Tina adding, 'A good starting place is government departments and their lack of balance. If we put the spotlight of change on them, they will soon react!'
Roseann also wanted to consider small round tables of influencers and Permanent Secretaries to highlight the value of female entrepreneurship and its impact – both existing and potential – on the economic development of Northern Ireland.
Joan Ballantine highlighted the need for media to be given an understanding of the issues and to bring more senior men into the space so that they too can recognize the value of the sector and the real barriers that exist to its development.
There was a sense that some women felt that this issue is done and no longer want to be considered the 'other'. That the networking and talking is complete and that there needs to be a sense of action and taking things forward.
The Panel and audience agreed that while it is difficult to get things done on a Policy front while Stormont is 'asleep', women can take action to call out discrimination and inequality wherever they see it and raise the temperature on the issue in society.
Referring to the role education can play in changing thinking and culture, Carol highlighted the need to influence the thinking of young people and educators. 'It is vital that we raise awareness of the value of business and entrepreneurship as a career choice. At the moment being entrepreneurial – in any sense – is simply not valued, but as the employment landscape changes, so will that awareness.
'The creative industry is huge, but by its very nature, it requires self-employment and that realization will trickle back into education.'
Breaking down the barriers
In concluding the session and the Conference, Joan reiterated the points made throughout the day that there are real barriers to female entrepreneurship: that they need to be highlighted: that there was a need to widen the debate and be seen to be active, and that the work really starts from here.
'Who and what is in the way – and with whom do we need to start the fight!'
---
Five supportive research papers
Crowdbased Funding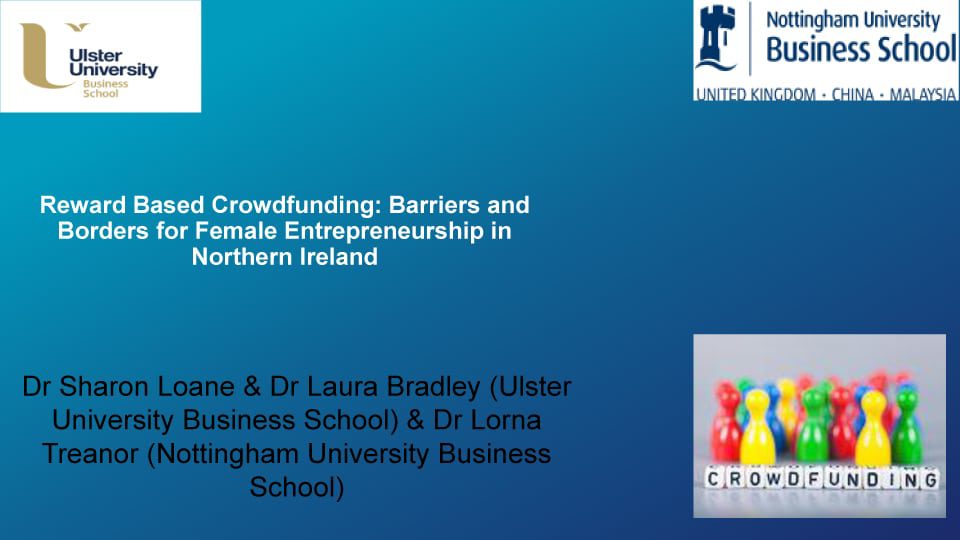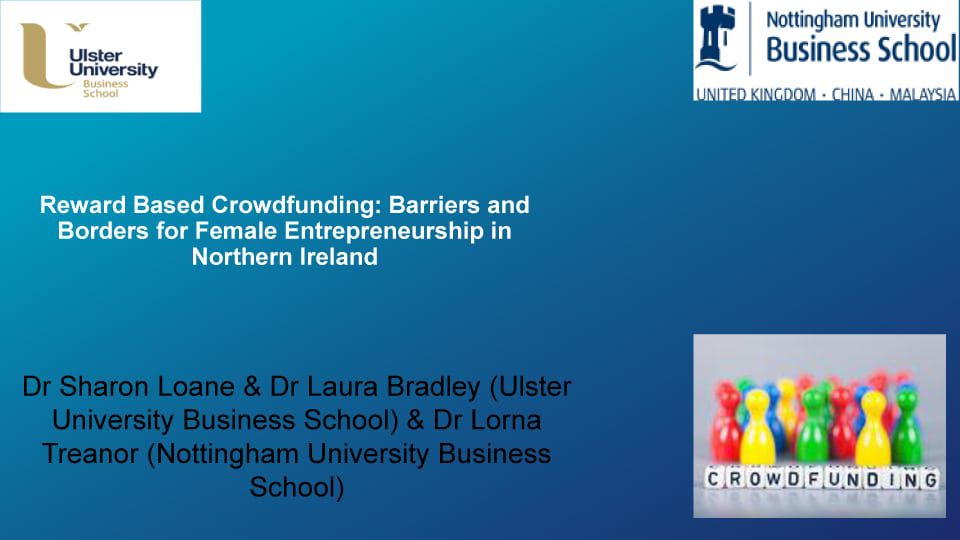 Dr Sharon Loane, Dr Laura Bradley and Dr Lorna Treanor discovered a reluctance on the part of women to approach formal lenders at start up and growth phases and a low uptake of reward-based crowdfunding among female entrepreneurs. Their report suggests some steps that might help overcome these barriers. (Click here or on the image to download the full research presentation)
Network/relationship management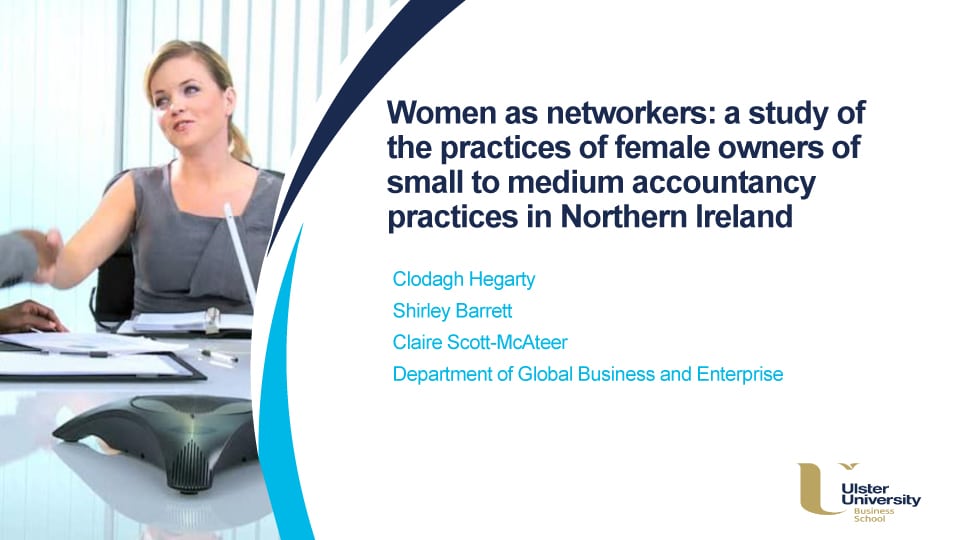 Clodagh Hegarty, Dr Shirley Barrett and Claire Scott McAteer investigate women business owners as networkers in the context of small to medium sized accountancy practices and that networking is gender sensitive and that it needs to change within the business lifecycle. Their research also suggests that women-only events require a greater professional focus and a clear purpose (Click here or on the image to download the full research presentation).
The role of Self-Efficacy in developing women's social capital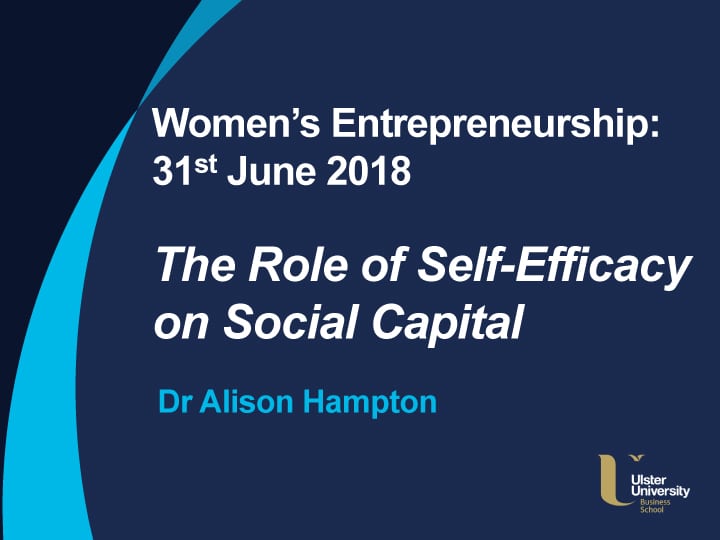 In this research Dr Alison Hampton concludes that gender as a barrier becomes less influential as self-efficacy (confidence) grows with years in business and that mentors or role models play a crucial role in support of continued entrepreneurial activity. (Click here or on the image to download the full research presentation)
Is there a demand for a Womens Enterprise Centre in Northern Ireland
Nancy Brown, Roseann Kelly, Mairead McEntee, Una McMahon-Beattie and Janette Sheerman research reports an overwhelming support for the establishment of a Women's Enterprise Centre to provide tailored training, networking, mentoring and access to technology. (Click here or on the image to download the full research presentation)
Identity work within the context of STEM entrepreneurship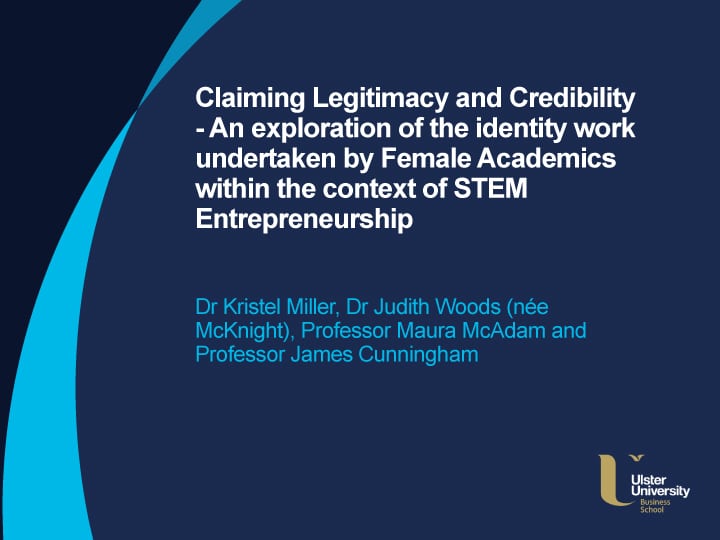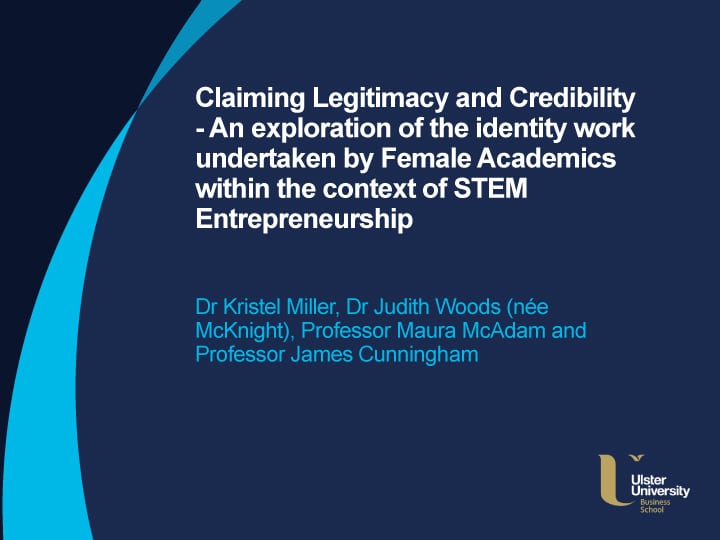 Kristel Miller Maura McAdams, James Cunningham and Judith Woods research explores womens engagement in academic enterprise within science, technology, engineering and mathematics (STEM) and they find evidence of gender imbalances and an 'old-boys' network with respect to engagement with academic enterprise. (Click here or on the image to download the full research presentation)
To download the full Research Report, please click here
---
Conference Photo Gallery