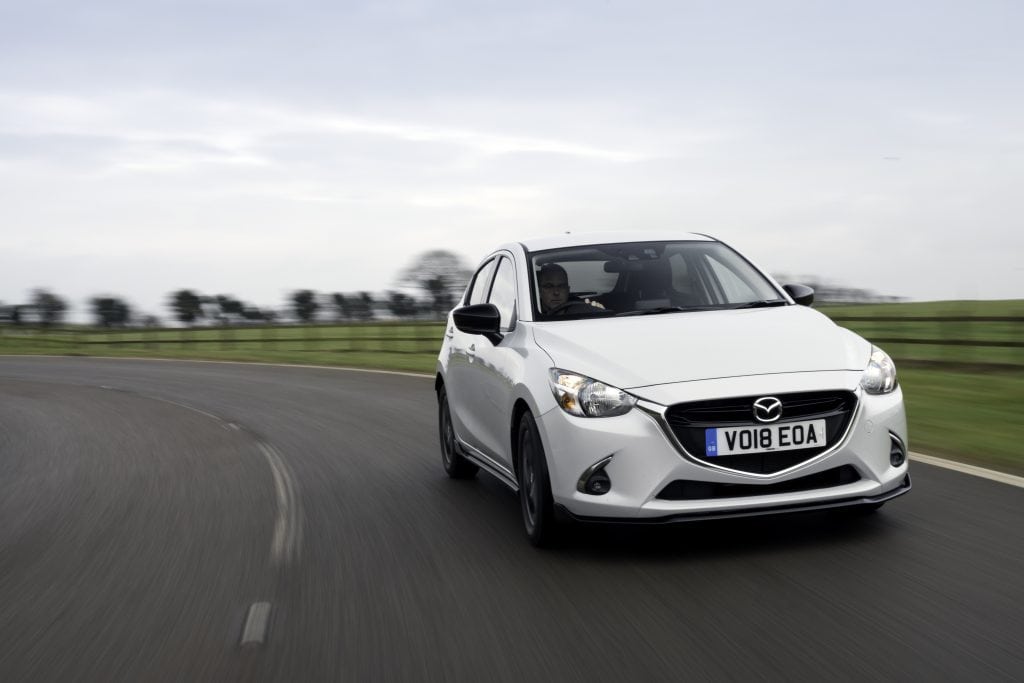 by Ian Beasant, Business First Motoring Correspondent
The Mazda 2 shows sharp looks, an entertaining chassis, and decent running costs to the competitive supermini class.
I think apart from SUV's the Supermini market is a growth market, with  consumers interested in smaller practical cars which are  marketed on a competitive finance or leasing deal. Mazda, always has been a premium manufacturer, The Mazda 2, their supermini certainly carries all the Mazda DNA and fits nicely into the market.
It may be small, but it is a sharp looking, practical city car with a nicely balanced chassis. When most other manufactures are tripping over themselves to build smaller efficient engines (the 1.0 litre 3 cylinder turbocharged unit seems to be normal at the moment in an effort to squeeze as much fuel efficiency and power as possible) Mazda have stuck to what they do best and fitted a 1500 cc 4 cylinder normally aspirated engine to their Mazda 2.
It was a refreshing change as it offers 90bhp and feels as if it is doing it with ease. The Five –speed gearbox is a total joy and easy to use as Mazda usual and very successful short- throw change adds that sporty feeling. The Mazda 2 feels as if it wants to be driven and does not disappoint if you are city driving or enjoying a switch back B road. The ride, even on the bumpiest of roads is firm but comfortable.
Mazda prides itself as an honest car company, interested in giving customers real-world fuel savings. That's why its strategy is based around high-compression naturally-aspirated petrol engines rather than following the trend for downsizing and turbocharging.
As a result its engines aren't the cleanest in the class, but they are pretty close. My test car was the most the 90bhp version, which returns 62.7mpg and 105g/km with the five-speed manual gearbox and that, was over a variety of long and short journeys.
The interior again carries the Mazda DNA and is familiar in style with the larger Mazda 3, it is simply and very well designed, and it is very easy to get acquainted with and becomes second nature very quickly. The soft leather coverings on the steering wheel and gear change add to the already premium feel. The ergonomics are spot-on, too; the range of adjustment for the front seats and steering wheel is superb, while the pedals are nicely positioned without any offset. For a small 5 door car the Mazda 2 is comfortable for 4 adults and offers a generous carrying space, which can be increased dropping the rear seats in full or 60/40 layout.
The Mazda 2 is a good choice as a city car or for a young family it will fulfil all their needs, It is an all-round good choice. Mazda is never out of the top manufactures in reliability offers a 60,000 mile 3 year warranty. The best thing for me is it is a fun car.
Prices for the model as tested £14,895.