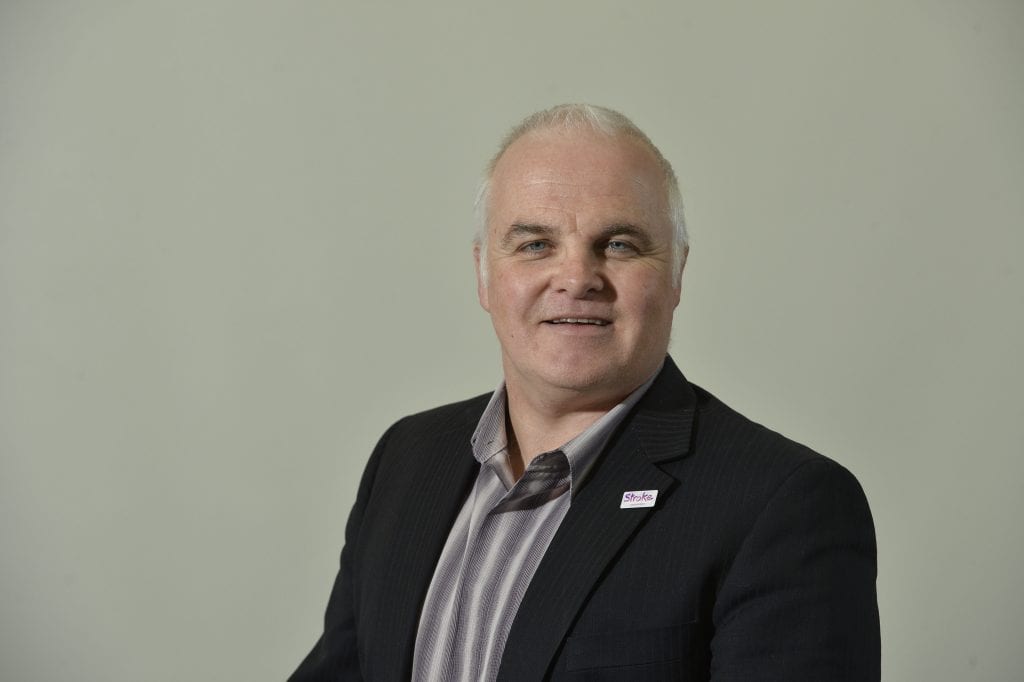 Barry Macaulay, Director of Stroke Association NI, continues our "Leaders in Business" series. Barry completed the Developing Managers programme leading to the Advanced Diploma in Management Practice and went on to complete the BSc (Hons) in Management Practice at the Ulster Business School.
What is your current role?
I am Director of the Stroke Association in Northern Ireland. The Stroke Association is the leading charity for Stroke in the UK. There are 4000 strokes in Northern Ireland every year and 37,000 people are living with the effects of stroke.  Many stroke survivors and their families rely on our stroke support services for much needed emotional and practical support.  This includes specialist Speech and Language Therapy for people who have Aphasia (speech and communication difficulties) as a result of their stroke and a network of peer support groups throughout NI. We work in partnership with all five Health and Social Care Trusts and lobby for prevention and improved stroke care.
I have been in post for 18 months and my role involves providing strategic management and leadership to our team of 30 staff and 100 volunteers. I am also the lead for Aphasia across the whole of the UK.
How did you choose this career and what has been your driver?
As a student I had intended to pursue a career in teaching but as a Camp Counsellor in America one summer I was assigned a group of Deaf and Blind Children to look after and it inspired me to pursue a career in supporting people with disabilities. I have now been working in the field of disability and social care in Northern Ireland for 25 years, both as a statutory Social Worker and as a Senior Manager in the Voluntary Sector. This included a 13 year spell at the Royal National Institute for Blind People (RNIB). I have also been a member of the Board of Disability Sport NI for 8 years and am their current Chairperson. My motivation is quite simply to assist people who face challenges due to their disability or long term condition.
"I get significant satisfaction through providing practical assistance and championing their rights and challenging injustices and discrimination. I just couldn't see myself working in an organisation in the private sector where the goal was profit alone". 
What is the most rewarding part?
The most rewarding part of my job is seeing the difference our services and interventions can make to people's lives. Stroke is a devastating condition and unfortunately can be fatal and can lead to long term severe disability. However stroke survivors do recover and it is our aim to support them in their recovery and support them to have a life after stroke. I have lost count of the number of times I have been moved while meeting stroke survivors at our events and groups across the country. And I feel privileged to be in a position where I can make their lives better.
What was your own educational background?
I have a BSc (Hons) Degree in Sociology from University of Ulster and a Masters in Social Work from Edinburgh University. After a number of years practising as a Senior Manager I realised that in order to step up to Director/CEO level I would need to undertake an accredited Management qualification. The Developing Managers Programme was the ideal introduction to this and I attained an Advanced Diploma in Management Practice. In my cohort there were a number of people from the Third Sector and I was impressed how the course was able to apply management and business principles to the non-profit sector. I went on to complete BSc (Hons) in Management Practice and again I was able to use 'live' examples for my assignments and dissertation, including setting up a social enterprise. During that time I also completed a Diploma in Sustainable Investment in the Third Sector at the UBS. This was a bespoke course for the third sector and greatly enhanced my skills in generating charitable income from a number of sources.
I would highly recommend the Developing Managers programme and Ulster Business School to my colleagues in the Third Sector.
If you would like to hear more about how you can "Model your Future" with our Developing Managers Programme leading to the BSc Hons Management Practice contact Janette Sheerman

[email protected]

or 07793539280.
For more information on the Stroke Association in NI go to: https://www.stroke.org.uk/what-we-do/northern-ireland