Today's companies, especially the ones that are primarily online, like to take a DIY approach to all things business. They use social media marketing tools to launch and manage marketing campaigns, automation software for various processes like accounting, expense management, etc. and also designing tools for creating a company logo, website banner, landing pages, etc.
If you are looking to create a professional company logo or revamp the visual aspects of your blog or website, then the following are the top 6 design and branding tools you may want to look into first:
Brandmark
Brandmark is a simple and intuitive online logo service that's ideal for those who don't have any experience in graphics design or arts. To use this service, you just need to give some details about your company and provide a few suitable keywords which may create the foundation for your logo.
You get a variety of options for tweaking your designs without a hassle. There is no particular learning curve, and neither are there any complicated tools that may come in your way of creating the perfect design that you have in mind.
Brandmark also offers instant design assets that are fully customizable to be used for business cards, social profile icons, favicons, etc. You can also export your designs to a variety of vector file formats including SVG, PNG, PDF, and EPS.
Tailor Brands
Tailor Brands logo maker is a comprehensive branding suite that allows you to create unique and professional logos without hurting your pocket. It's a product of an advanced artificial intelligence algorithm which is capable of understanding and applying the information shared by you for your ideal logo design.
To create a logo with Tailor Brands, all you have to do is share a few basic details about your business such as the name and industry category, your choice of logo design (icon based, font based, etc.), and then select the design options you prefer. The service processes this information to create the perfect combination of fonts, colors, and icons that make for a distinct and attractive logo which you can use for your website or blog instantly.
Water Marquee
The big questions in business, such as why you should invest in SEO, what are some of the things you need to change to improve the lead conversion rate for your website, etc. are hard to overlook. However, it's the little things, even if they are highly important, that often tend to slip by.
For instance, what measures have you taken to protect your website's content? There are millions of websites on the Internet, and lazy owners who just want to make a "quick buck" don't think twice before ripping off someone's top blog post or premium images that they spent hours refining and tweaking. Fortunately, Water Marquee has the answer to this problem.
Water Marquee is a simple online service that allows you to watermark your images, something which can go a long way in deterring the content thieves from stealing.
Watermarking your images is as easy as 1-2-3 with Water Marquee. Just follow these steps:
Add the image by clicking the "Add Images" button
Click the "Set Watermark" button
Enter your watermark preferences such as placement, type (text or image), font, size, and color
Click the "update" button
The watermark will be applied automatically and you can download the modified image by clicking the "save images" button
You can Water Marquee for protecting your precious images and even for branding purposes as you can watermark the images with your company logo. What's more, it's completely free to use!
Bannersnack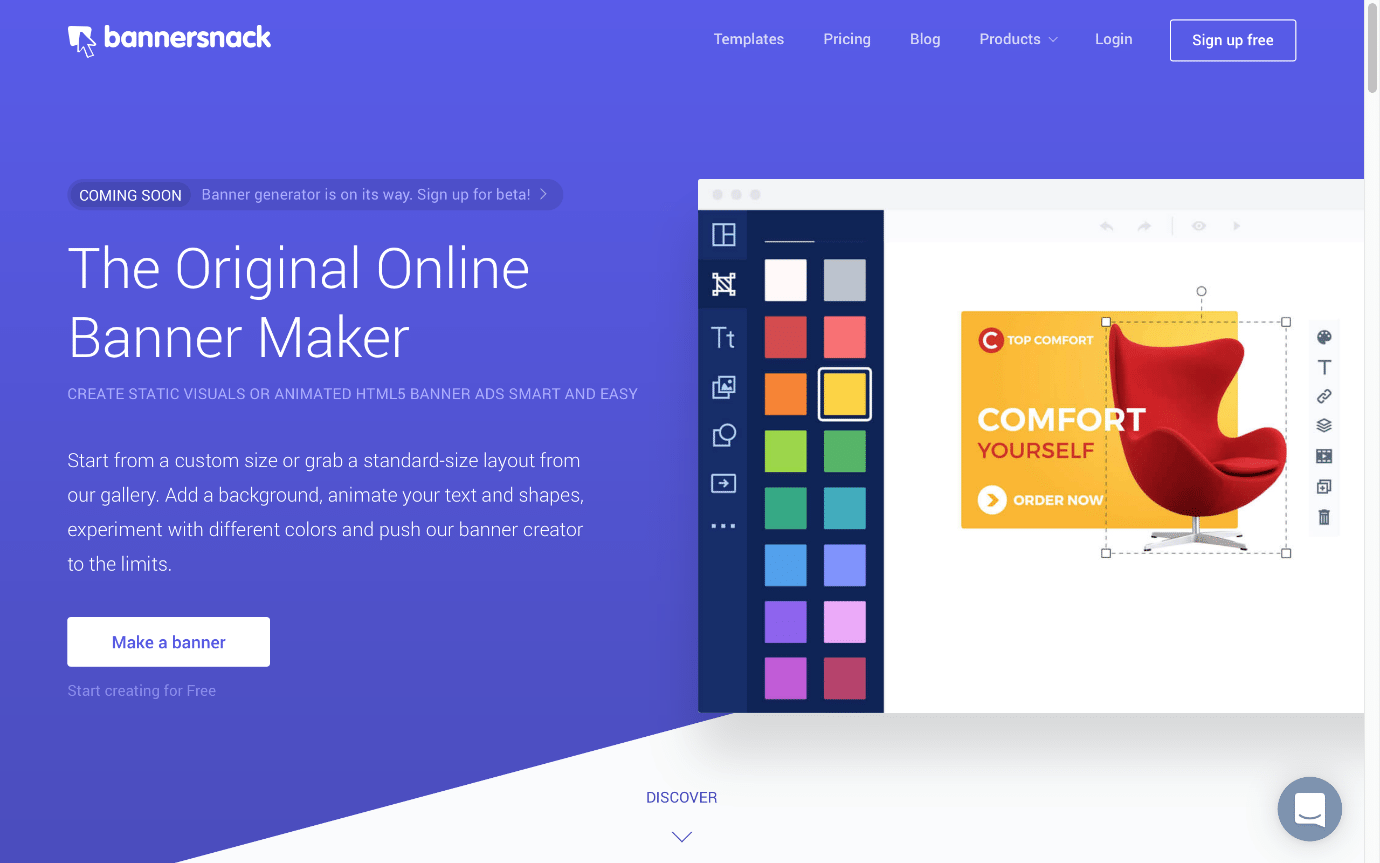 Having a hard time creating banners for your digital ads? Maybe you should try Bannersnack Banner Maker, a cloud-based banner ad design tool that makes graphic design easy and helps manage your online marketing campaigns across all channels.
Bannersnack supports all the popular formats including GIF, JPG, Flash, HTML5, and even MP4. You can upload your own logos and fonts, and customize your designs easily even if you don't know how to use professional graphic design tools like Photoshop.  In addition to that, you can add a variety of elements to make your ads stand out including call-to-action features, animations, etc.
If you want to create ads without spending a lot of time on the design, then you can also select a pre-made copy design or template from Bannersnack's collection.
Slides Carnival
When you have to give a presentation to a potential client or business partner, then you want to make sure that not only you are well-prepared for the questions they might ask after your presentation, but that the slides used in the presentation file are professional, neat, and carry meaningful visuals. This is where Slides Carnival comes in.
Slides Carnival is your one-stop destination for all your presentation needs. Here you can find a variety of PowerPoint templates and slides for your presentations ranging from formal to downright playful. Most of the products that you will find here can be easily customized to suit your needs. You can even add your own photos or logos in the templates.
Colors
Colors play a big role in design. Whether you are creating a website logo or a hero image, your company's newsletter or a digital ad, you know that the colors you pick can greatly affect the impact. In fact, marketing professionals know how to use color psychology to give a business an edge. The question is- how do you pick the right colors for yourself?
If you know little about colors and design, then you needn't blame yourself. As a business owner, your job is to focus on running the company better. For other things, you can use apps like Coolors color scheme generator which is a simple yet powerful app that instantly creates perfect color palettes for all your design woes.
Coolors essentially takes out the guesswork from the design process and gives you the right selection of colors in sets of 5s that go well with each other and that you can use for your website logo, business card, etc. All you have to do is tap/click on the screen to be provided with different sets of colors. You can do this multiple times until you find the right set that makes you go "bingo!"
Conclusion
You don't have to be a graphics design expert to create remarkable company logos and social media banners. There are all kinds of apps and websites to make these tasks easy and simple. You just need to know where to look. The products discussed above should be able to nudge you in the right direction, to say the least. Good luck!